A poll carried out this fall among Palico members found that 93 percent believe high net worth individuals will become a major fundraising source for private equity over the next three years. We're there already.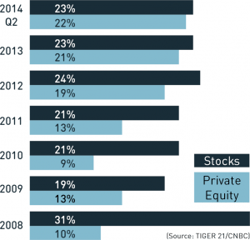 Private equity fund managers raised a record 10 percent of their capital from high net worth individuals - those with more than $1 million in investable assets - in the first 10 months of 2014. By contrast, high net worth individuals accounted for only 6 percent of fundraising in 2008.
Ultra-High Net-Worth Individuals Sharply Increase Their PE Allocations
Meanwhile, ultra-high net worth individuals - those with tens of millions to invest - have sharply increased their exposure to private equity. Tiger 21, an association for UHNWIs, reports that the PE allocation of a typical investment portfolio for one of its members increased to 22 percent in the second quarter of 2014. That record percentage is just 100 basis points shy of their allocation to public equities, their largest investment by asset class. This represents a dramatic change in a relatively short period. The Tiger 21 allocation to PE was just a tenth of the typical member's portfolio in 2008, when stocks represented nearly a third of holdings.
The appeal of private equity is easy to understand. In PE's largest market, the U.S., the asset class returned an average of 13.9 percent annually net of fees between 2003 and 2013, outperforming the S&P 500 including reinvested dividends by 6.5 percentage points, according to the Private Equity Growth Capital Council.
Fund Managers and Individuals Find Common Ground
Managers and individuals are finding common ground through classic-fund investment as relatively low-cost, but more complex co-investment and separate accounts siphon institutional investor capital away from traditional private equity vehicles. Fund managers are actively seeking out individual investors for their funds, courting family offices, private banks and brokerages, and increasingly using direct discovery and engagement tools like Palico's marketplace to reach HNWIs and their representatives.
Over a quarter of Palico's investor-member firms are family offices or the private banks that either advise HNWIs or invest on their behalf. These firms constitute the largest single investor group on Palico. This makes Palico a logical place for relationships between fund managers and individuals to begin.