Current Aggregate PE Capital By Investor Type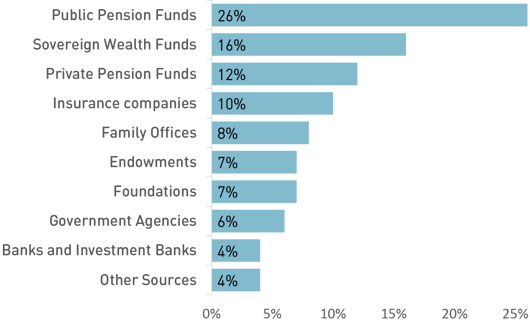 Source: Palico
Access to Retail, High Net Worth and Family Office Distribution
Last month's big news in private equity, Ares Management's $2.55 billion purchase of Kayne Anderson Capital Advisors, is a wake-up call for the industry's fund managers. The deal underlines the growing importance of being able to target individual investors - for now the wealthy, but eventually also mass market retail investors. Crucially, the deal gives Ares access to Kayne Anderson's rapidly growing "retail, high net worth and family office"* distribution channels. Kayne Anderson is one of the industry's best firms at targeting individuals and their advisors - in May it raised more than $1 billion for its latest private equity real estate fund, with half that money coming from high net worth individuals (HNWIs), or the family offices that represent them.
The Wealthy are Now the Highest Allocators to Private Equity
At a time of record low interest rates, HNWIs and family offices are attracted by private equity's promise of double-digit returns uncorrelated with public stock markets. Research from Palico shows that family offices account for 8 percent of the world's $4 trillion in private equity assets under management. That family office share is double that of just five years ago. Over the same period, family offices and HNWIs with more than $10 million in investable assets increased their average allocation to private equity by more than half, to 29 percent from 19 percent of their own portfolio assets. That makes the wealthy the highest allocators to PE and the second most rapidly expanding source of capital for fund managers on an absolute basis, just behind sovereign wealth funds. Endowments, the second biggest allocators, currently earmark 13.6 percent of their assets to private equity, up from 12.8 percent five years ago.
SWF Capital is Great - If You Can Get It
Sovereign wealth funds account for 16 percent of all private equity assets under management, according to Palico's research. But SWFs manage such enormous quantities of capital that they have the resources to invest directly. This makes them a more elusive target for fund managers. In terms of numbers, rather than the share of PE capital they supply, SWFs make up only 3 percent of private equity investors; on Palico they account for nearly 7 percent of accredited investors.
Reaching Individuals - A Learning Curve
A select number of private equity fund managers are on a steep learning curve when it comes to marketing to individuals. They are hiring in-house specialists, partnering with bulge-bracket brokerages to access their wealthy clientele, building relationships with family offices, hosting investor days for HNWIs, creating feeder funds for individuals investing relatively small sums and listing opportunities on Palico, which has a growing number of accredited individual investors. All of this is likely, one day, to prove essential training for marketing to a much wider audience of non-accredited retail investors.
Palico Helps Investors and Fund Managers Keep Up with PE's Evolving Opportunities
HNWIs and their representatives, including family offices, private banks and registered investment advisors, account for 35 percent of the limited partners who are Palico members; institutional investors of all stripes make up the balance. Whether it's via desktop, smartphone or tablet, Palico's marketplace helps both limited partners and general partners find each other and stay up to date with the increasingly diverse world of private equity opportunity.
*07/23/15 Press Release - "Ares Management & Kayne Anderson Capital Management Announce Merger"