According to Palico data, 2,914 private equity funds are currently seeking $980 billion. Fund numbers are up 7 percent from the previous record of 2,720 funds seeking capital in February, the last time Palico visited this topic. While that's a significant increase in just ten months, the aggregate sum targeted has risen a modest 1.6 percent from February's $965 billion.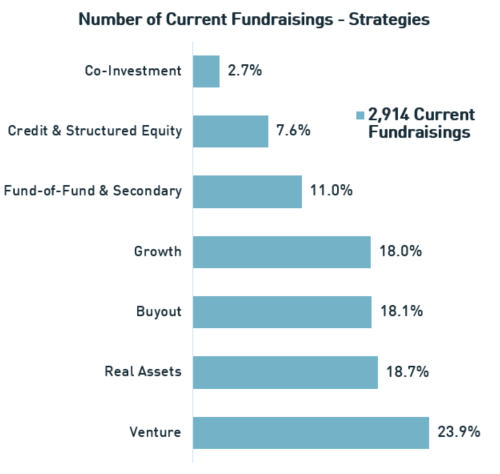 In Nearly Two Years, the Number of Fundraisings is up More than 13 Percent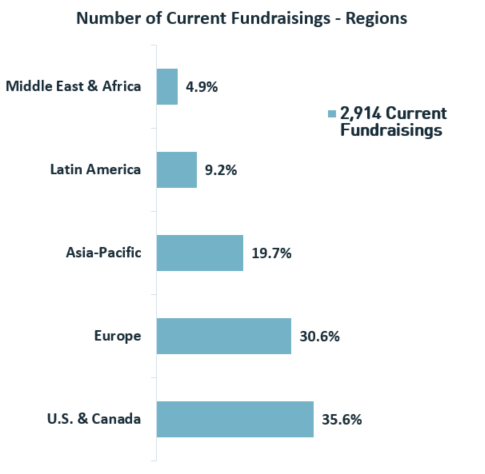 The total sum targeted today by fundraisings is up less than a percentage point from the $972 billion sought in February 2015, when Palico first started following this market, but fund ranks have swelled 13.4 percent in the same period from 2,570 vehicles. With investors seeking to commit more to fewer managers, competition in the fundraising market continues to increase.
The Market Moves Further Away from Buyout Funds
Buyout funds, the largest vehicles in the private equity space, have lost almost a fifth of the 22 percent fundraising market share they accounted for in February, 2015 (see tables). That and the rise of smaller, niche funds focusing on less crowded spaces where assets can be had more cheaply - at a time of record high prices for buyout transactions - does much to explain why the number of fundraisings is increasing while the total sum targeted is largely static.
Funds-of-Funds and Secondary Funds Account for Greater Market Share
Since February, 2015, the number of funds-of-funds and secondary funds raising money from investors has steadily increased, evidence of a renaissance of sorts for the former and new-found popularity for the latter. In tandem with the growing preference for specialization, funds-of-funds - seen as little more than an extra layer of fees in the first few years following the global financial crisis - have reconnected with investors as niche specialists in everything from infrastructure funds to first-time managers. Meanwhile, secondary funds can offer investors a way to get capital gains faster and with less risk than primary investing (though the tradeoff for safety maybe lower returns). They invest in mature, closed funds holding assets that can be analyzed and which are likely to be teed up for sale in short order.
Geographically, offerings continue to fan out from the U.S., where the long-term, activist investment style that defines private equity was first developed. Europe, in particular, is well represented in the current crop of fundraisings, accounting for 30.6 percent of the market by number of vehicles. That's a fifth more than the share of European offerings in February. The sharp jump is in part explained by many European managers seizing on the appeal of euro-denominated funds at a period of dollar strength. The U.S. continues to lead the fundraising market, accounting for 35.6 percent of offerings, down from 36.3 percent this past February.
Palico Helps Investors Find Investments and Managers Find Investors
The growing diversity of private equity across strategies and regions, and the ever rising number of investors interested in committing to the asset category can stretch the resources of limited partners and general partners alike. By bringing primary fundraising and secondary investment opportunities to desktops and smart devices, Palico makes the process of discovery and transacting easier for everyone.