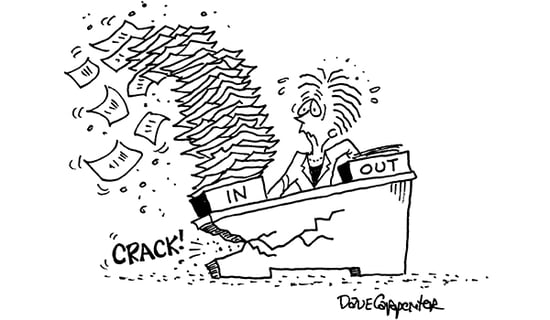 Covering potential private equity investments is a time consuming, sometimes painful experience for limited partners. The sponsors of an all-time high of 3,040 private equity fundraisings - a global patchwork focusing on everything from buyouts to credit - are jostling today to stand out, targeting a record $1 trillion from investors.
Limited Partners are Inundated with Fundraising Proposals
One of the biggest private equity investors, Hamilton Lane, is on pace to receive an unprecedented 800-plus private placement memorandums in 2017. It's the fourth annual record-breaker in a row for fundraising proposals, and not just at Hamilton Lane. All investors it seems, from the smallest to the biggest, face the challenge of how to effectively vet today's daunting variety of PE investment options.
Less Reliable Top-Quartile Persistence
A recently concluded study by Massachusetts Institute of Technology economist Antoinette Schoar indicates that only 12 percent of top-performing private equity managers now have back-to-back top-quartile funds, versus 28 percent prior to 2004 and 31 percent before 1999. This helps explain a variety of trends, including the expansion of limited partner staffs, the increasing willingness of LPs to invest in first-time funds, the popularity of investing in less crowded specialty niches, and the growing use of digital tools like Palico's marketplace - a means of streamlining complex PE fund selection. Put simply, less reliable top-quartile persistence puts a premium on selection skill, increased resources, and digital innovation.
LPs Recognize the Need for External Tools
Indeed, the latest investor survey from Coller Capital - a widely followed indicator of investor sentiment - shows that limited partners believe they are failing to keep up with new private equity opportunities. Virtually half of North American LPs, nearly two thirds of European LPs and over two fifths of Asia-Pacific LPs say their organizations aren't changing fast enough to take full advantage of PE opportunities. And three out of four of the world's LPs believe they could significantly improve their PE programs through better use of "external data sources," a catchall category that includes everything from third party software and cloud applications to digital marketplaces like Palico that bring the data rooms of investable primary and secondary opportunities to the desktops and smart devices of LPs.
Helping LPs Find Investments, Palico's Marketplace Can Improve Returns
Not enough LPs realize just how much third party resources like Palico's digital marketplace can help them. Among investors in the Coller survey who say they are under-using third party resources, three quarters believe they could improve portfolio management through these tools. Yet only one third share the conviction that they could register higher PE returns. We believe that as PE investment options grow, LPs who neglect digital marketplaces like Palico miss out on some of the best investment opportunities, and thus the potential to further improve their returns. Palico fits seamlessly with all channels of capital commitment, yet it is altering PE with a digital marketplace that makes fundraisings and secondaries - covering all strategies and regions - more accessible and affordable.
"We secured several commitments using Palico and the standout element was the remarkable efficiency of the digital marketplace."

Brett Hickey, Star Mountain Capital