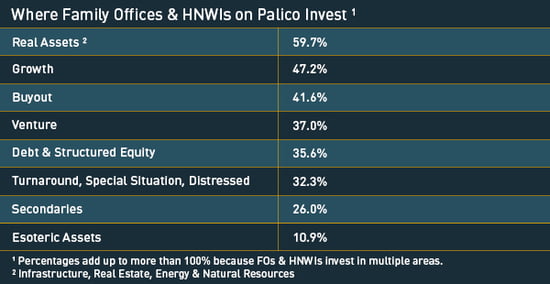 Out of the nearly 3,000 accredited limited partners seeking primary and secondary private equity fund investments in Palico's digital marketplace, 19 percent are either from family offices or are high net worth individuals. Their numbers among Palico's limited partner members are second only to fund-of-funds professionals - roughly 1 out of 4 Palico LP members. If we assume that the overwhelming majority of registered investment advisers (5 percent of Palico LP members) act on behalf of family offices and high net worth individuals, then FO & HNWI representation on Palico exceeds that of funds-of-funds.
In Satisfying FOs & HNWIs, Palico Helps Fundraise for a Wide Variety of GPs
A range of industry statistics indicate that with the exception of sovereign wealth funds (5 percent of Palico's LP members), family offices & high net worth individuals have been the fastest growing private equity investor group over the last decade, though pension funds (9 percent of Palico's LP members) still lead the pack. FOs and HNWIs are also among the most entrepreneurial and eclectic of limited partners, investing in a particularly broad range of PE strategies, across all regions and in first-time funds and later generations.
That eclecticism is demonstrated by their nichey investment style (see above table). Three out of five family offices & high net worth individuals in Palico's marketplace are pushing into specialized real asset categories - i.e. investing in infrastructure, real estate and energy & natural resources. By contrast, a less important (but still significant) one third of funds-of-funds seek real assets on Palico. Compared to other LP categories on Palico, FOs & HNWIs also tend to overweight investment in debt and structured equity, turnaround, and in the offbeat category of esoteric assets (this could be anything from investment in patents, to water technology to class action lawsuits).When it comes to the traditional, two out of five FO & HNWI members invest in classic buyout funds, versus three out of five fund-of-funds professionals.
The Advantage of a Digital Marketplace for FOs & HNWIs, and Others
One common problem faced by limited partners is a lack of requisite resources for researching the variety of private equity fund investment choice, whether in the primary or secondary market. Today, a record 3,129 private equity funds, ranging from buyout to credit vehicles, are targeting a high of $1,152 trillion.1 Over the past year alone, the number of fundraisings worldwide has risen 7 percent, while visibility in the private equity secondary market is notoriously opaque. We believe that as PE investment options grow, LPs who neglect digital marketplaces like Palico miss out on the potential to further improve their returns. By bringing investable fundraisings and secondaries to desktops and smart devices - along with a wealth of relevant information - Palico extends the reach of limited partners, general partners and their advisors, making the best opportunities more accessible and affordable.

1Source: The Triago Quarterly, December 2017
"We secured several commitments using Palico and the standout element was the remarkable efficiency of the digital marketplace."

Brett Hickey, Star Mountain Capital