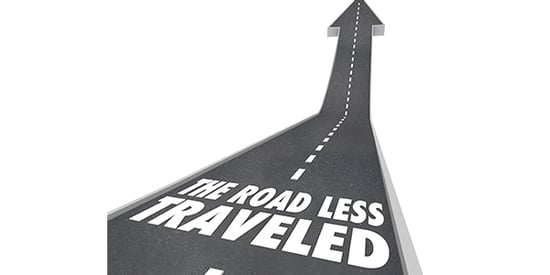 With fund-size records quickly achieved, only to be quickly broken in recent months, and as the average fund becomes ever-bigger (the typical PE vehicle has nearly doubled in size in the last six years to $1.3 billion), many private equity professionals expect their returns to shrink somewhat, increasing the appeal of the proverbial 'road less traveled' in our industry - investing in funds in uncrowded specialities and in the relatively neglected lower end of the buyout market.
The Emergence of Barbell Investing - Big Funds for Beta and Small for Alpha
Indeed, larger funds competing against each other for assets are likely to have a tougher time producing the kind of outsize returns for which private equity is justly celebrated. Today's behemoths do, however, offer the opportunity to put exceptionally large amounts of money to work in one go, an advantage at a time when investors are loath to let capital earmarked for PE investment lie fallow in exceptionally low yielding investments. Given the simultaneous popularity of large and small funds, a barbell investing style is rapidly developing, with limited partners looking to commit large sums to big funds, but seeking a bigger bang for their buck by investing lesser amounts in those smaller, frequently sector-focused funds and emerging managers found on the road less traveled - what Palico dubs alternative PE.
Bringing Alternative Private Equity to Investors
In today's mature private equity fund market, where a record 3,129 funds are seeking capital - some 42 percent more than just five years ago - it can be hard for limited partners to find the time to source and evaluate smaller managers. In fact, LPs these days actually find little time to do anything more than re-up with existing relationships, given the aggressive sideways expansion of large general partners into new strategies. Yet Palico's digital marketplace brings a rich choice of promising smaller and specialized managers to the desktops of over 1,500 limited partner firms in every region of the world. Palico provides over-taxed LPs an efficient means to evaluate, analyze and invest in new GP relationships.
Four out of five fund managers raising capital on Palico are seeking $250 million or less, intending to focus on relatively neglected and potentially attractively priced small cap assets; three out of five qualify as emerging managers, i.e. those raising their first or second fund - though most have previous experience at larger funds; two out of five operate in specialist sectors including agriculture, credit, timber, mining, water, shipping and intellectual property; and another two out of five focus on newer regions for private equity investment in Asia, the Middle East, Africa, and Latin America. Listings in Palico's secondary market are dominated by small secondaries - stakes of $10 million or less in funds that have finished fundraising and are already investing. Palico is making private equity 'alternative' again, even as the overall industry matures. In 2017 limited partners invested $227 million in primary fundraisings and secondaries via Palico's digital marketplace, overwhelmingly in smaller and more specialized funds.
"Palico's marketplace is a particularly valuable means of discovery in an industry where traditional fundraising frequently falls short."

Tom Clausen, Capvent