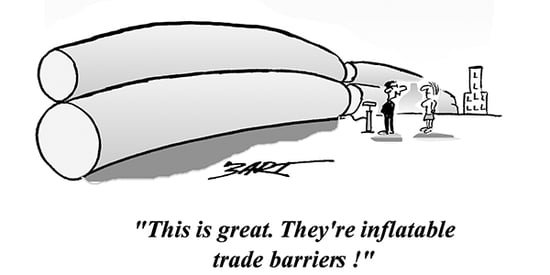 It's difficult to tell how serious the threat of multiplying trade barriers will become for world commerce after an executive order mandating punitive U.S. tariffs on steel and aluminum imports was signed by President Trump a week ago. The Trump administration is holding out the possibility of selective exemption, dependent, it would seem, on negotiations with U.S. trade partners. But whatever the fallout, international private equity investment will continue. And with markets becoming more volatile, investors will seek out - in growing numbers - off-the-beaten-path private equity investments, or those that show the least correlation with the global macro economy.
Alternative PE - From the Four Corners of the Earth - is Palico's Speciality
That's just what Palico's digital marketplace for private equity fundraisings and secondaries specializes in. Fund offerings with an investment focus covering 179 of the world's 195 countries are listed on Palico, with more than four out of five vehicles focused on investing in the particularly inefficient small cap and lower middle market corporate sectors - far from the world of major indexes. Additionally, some 40 percent of the funds in Palico's marketplace focus on specialities, covering everything from litigation finance to water technology, with the vast majority intended to show little correlation with the direction of the macro economy. A majority of secondaries sold on Palico involve funds that raised $250 million or less from investors - again hitting that uncorrelated, micro investing sweet spot.
$227 Million Invested via Palico
In 2017 limited partners invested $227 million in primary fundraisings and secondaries via Palico's digital marketplace, overwhelmingly in smaller and more specialized funds. As average fund size grows amidst a record number of fundraisings, Palico's digital marketplace helps off-the-beaten path fundraisings and secondary offerings in smaller funds standout, bringing them to the desktops and smart devices of interested investors the world over. Palico is making private equity 'alternative' again, even as the overall industry becomes mainstream.
"Palico's marketplace offers a great way to connect with GPs. It allows us to cast a very wide net for investments, which is necessary in today's private equity market."

John A. Haggerty, Meketa Investment Group