Shahram Seyedin-Noor is the Founder and General Partner of Civilization Ventures, a San Francisco-based venture capital fund investing at the intersection of health tech and synthetic biology. We recently caught up with Shahram to discuss his fund's unique value proposition and his experience successfully leveraging the Palico marketplace.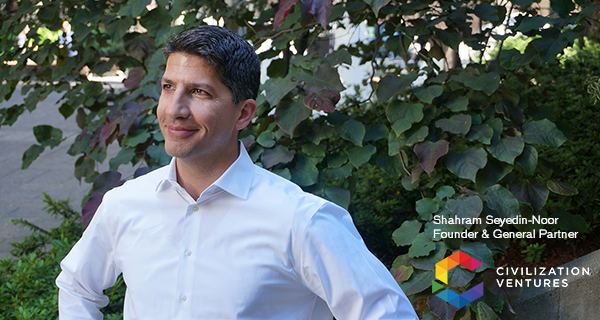 How would you describe your specialized fund and how it is positioned in the market?
SSN: I think "specialized" is the right term. We have a unique focus on two investment pillars - heath tech and synthetic biology - that no other fund has combined under the same roof even though it makes complete sense and the two domains are highly synergistic. The networks overlap heavily. The entrepreneurs are often the same (PhDs in biology). This focus really differentiates us.
How did that unique focus translate to success for Civilization Ventures I?
SSN: The first fund has done exceptionally well. As our pilot 'proof of concept' fund, we invested in over an 18-month period and have already achieved our first $1 billion 'unicorn' exit with Rocket Pharma which got listed on NASDAQ just months after our investment. That was a unique outcome for our LPs, and a huge validation for our approach. In total, our Fund 1 companies from last year have already raised over $200 million in venture capital with or following our investment. Many have had big up rounds.
Your early Fund 1 results indicate you're on track to become a "Top Decile" fund – what is your edge?
SSN: Thanks for that. First of all, the results are early. We actually believe that the results from Fund 1 are just beginning, and the best is yet to come. My edge as an investor is threefold. First, I've been an operator who's run multiple companies, hired dozens of people, sold millions to customers, and sold companies. When I speak with an entrepreneur, they know that I speak from experience and can add value. Second, I chose areas to invest in – like digital health and genomics – that are fast growing and where no existing VC has established a dominant brand, enabling us to become that brand. Third, I love what I do. I hope that also shows. You can't be the best unless you also love what you do.
What is the ideal LP investor profile for your fund?
SSN: We are investing in "deep tech" – meaning, our investments require a high degree of technical diligence, leveraging our unique network of PhDs and advisors. We only invite LPs into our fund who share a passion for science and its transformative impact on our lives and the planet. We strive to do good by investing in cutting-edge innovations, so we value LPs who likewise want to transform society for the better through technology.
How did you come across Palico?
SSN: I read an article that talked about Palico offering a unique platform for managers that are raising capital. One thing I was exploring was hiring my own placement agent, but I thought that Palico would actually offer a better value proposition. So far, our experience on the platform has been very positive.
What enticed you to go ahead and list on the marketplace?
SSN: I am fortunate to already have commitments from some great family offices and institutional investors through my own network, but I'd obviously love to have access to even more high-quality LPs. I think our fund's story is very compelling, and any venue where I can access new investors to learn about our story is attractive to me. I also appreciated the simplicity of onboarding onto the Palico platform.
Did that access provided by Palico result in finding a commitment?
SSN: Yes. Although my experience with Palico is only a few weeks old, I have had multiple LPs whom I otherwise would not have access to express interest in the fund, which resulted in finding a commitment from an LP quite quickly through the platform.
What would you tell other GPs about Palico?
SSN: I would say that Palico gives fund managers the ability to have interested LPs discover and opt-in to communications in a way that is highly scalable. Palico thus gives you exposure to LPs across the world and promises to do so in compliance with the laws of the relevant jurisdictions. That I think is important.