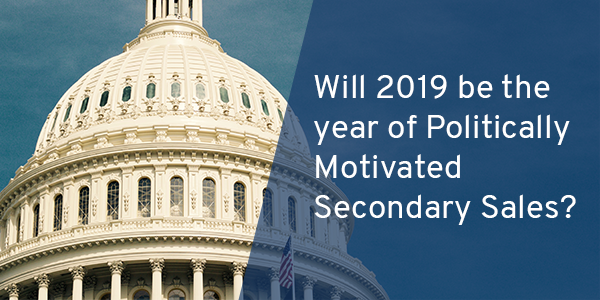 Volume in the secondary market for closed private equity funds soared last year as much as 47 percent with record annual aggregate value estimates in this opaque market ranging from $70 to $80 billion according to various sources. Given historically attractive pricing for sellers and the unprecedented sums earmarked for secondary purchases, record volume makes sense. The average transaction on the private equity secondary market stands at 102.5 percent of fund net asset value, according to a recent Palico marketplace survey (sent to members last month) – the highest level we've ever recorded. Meanwhile, estimates from industry intermediaries for committed but unspent capital in the secondaries market are at all-time highs of between $180 and $200 billion.
Sales Sparked by Brexit and the U.S.-China Trade War Could Spike
While pricing and record dry powder may drive secondary volume to a new record in 2019, there's a wildcard that could further increase transaction value: sales tied to political disputes. With Britain, and even Europe, likely to be subject to Brexit-induced turmoil for some time, and with China's already slowing economy burdened by the threat of a wider trade war with the U.S., secondary deal values for U.K. and China-based private equity portfolios could rise into the tens of billions of dollars. Just last month, Private Equity International reported on an as-yet anonymous "brand name UK private equity house that has been working with an advisor on a Brexit-driven" sale.


According to the winter edition of the highly regarded Coller Capital Global Private Equity Barometer, a half-yearly survey of private equity investors, opinion among the latter group about the impact on private equity of both Brexit and trade wars is sharply divided. While 44 percent of investors "expect there to be no new opportunities for private equity investment when the U.K. leaves the European Union," 45 percent believe Brexit will mean assets can be acquired cheaply." Some 75 percent of investors believe the US-China trade war "trade disputes will harm PE returns, while a significant minority of 25 percent say private equity "will be able to avoid the worst effects of trade disputes."
GP-Led Strip Sales Could Prove Popular for Reducing Exposure
Secondary sales sparked by political disputes and divisions could easily take shape either as some form of GP-led deal or as more traditional stake sales. GP-led transactions, a negligible portion of secondary market volume just five years ago, jumped in 2018 to a 38 percent market share from 28 percent the year before, according to Campbell Lutyens. One type of GP-led deal that is likely to become a common exit route for those wanting to bail on assets that they regard as tainted by political discord are so-called strip sales. These deals moved into the spotlight in a big way in 2017 when mega fund group Warburg Pincus used a record $1.2 billion strip sale of Asian assets to reduce the Asian exposure of investors in its 11th fund – an $11.2 billion vehicle – who were less than keen on the region.
Palico's Diverse Global Membership Facilitates Secondaries
With a membership base of over 1,700 funds-of-funds, pension funds, secondary funds and sovereign wealth funds, plus endowments, family offices, foundations, insurers, from over 100 countries, all with a diverse range of opinions and goals, the Palico Marketplace helps limited partners directly buy and sell secondaries whether the sale is politically motivated or not.