Family offices continue to be a hot topic these days. According to FINTRX, a Boston-based family office data and research platform, there are now 2,350 family offices globally, with over $50 million in AUM. That is an increase of 23% over the previous year when the same report showed 1,910 family offices with over $50 million in AUM.

As family offices continue to grow in size and volume, so have their commitments to private equity, and no exception has been their evolving and growing appetite for secondaries - a trend which has grown much faster than most might realize.
Secondaries Gain Priority Amongst Family Offices
Looking at investment preferences tracked by Montana Capital Partners in their annual survey, family offices have continuously made secondary opportunities a focus. Just in 2016, family offices had indicated only a 32% interest in secondaries coming behind six other investment strategies: real estate, mid-market buyout, private debt, venture capital, and distressed/turnaround.

Flash forward to 2017 where interest by family offices jumped to 48% for secondaries, this time coming 3rd behind only mid-market buyout and venture capital investment strategies. Now, in their most recent report from 2018, the focus on secondaries as a strategic preference has risen to 56% becoming the second most preferred investment strategy only behind mid-market buyouts - a remarkable shift for a three-year time span.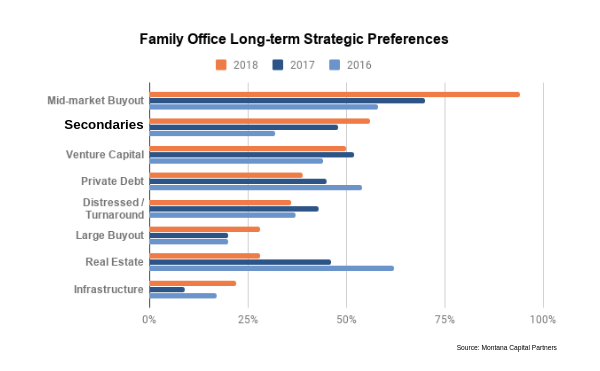 Why Family Offices Are Racing for Secondaries
Family offices have a few main drivers that make the secondary market especially compelling. Indeed family offices can invest in secondary funds, which is a good way to get more family office dollars into private equity opportunities. The drawback though is that once investments are made there is no control on where those dollars are invested.

However, family offices that are buying and selling secondary opportunities directly are afforded more control and a number of advantages in doing so:

Family Offices Buying on the Secondary Market
Decentralized: secondaries provide a chance to buy into funds that are often limited on the primary market where opportunities are centralized and tightly controlled or limited to particular LP investor types.
Diversification: secondary markets allow for family offices to invest across a more diverse portfolio of strategies and vintages since opportunities can be found in smaller transaction sizes that are more palatable to family offices and sometimes at discounts that can afford better pricing.
Risk mitigation: family offices are able to mitigate risk by investing at later stages of the fund; therefore having more data on the performance of the funds while also avoiding the j-curve.

Family Offices Selling on the Secondary Market
Active Portfolio Management: family offices looking to better manage their portfolio of private equity fund stakes can utilize the secondary market to sell non-core assets while using those proceeds to invest in other more strategic funds.
Liquidity Needs: the ability to divest fund stakes gives family offices the ability to proactively plan or have reassurance in the face of liquidity events.
The Challenges for Family Offices in Secondaries
In the same MCP survey, family offices are observed to be lagging behind institutional investors when it comes to selling secondary stakes. What is more striking about this fact is that family offices were as interested as institutional investors to consider selling positions in the secondary market.

How is it then that family offices are so far behind liquidating their own positions as compared to their institutional counterparts?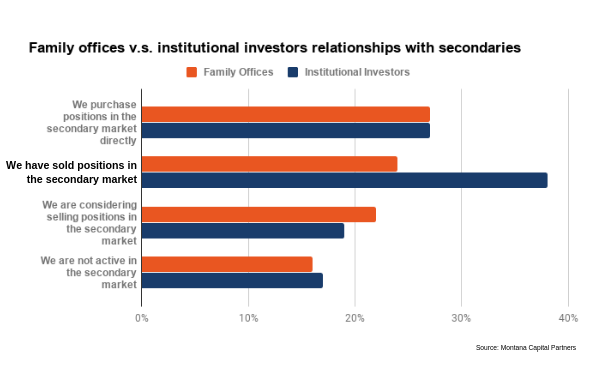 This gets to the heart of the matter - family offices have some inherent disadvantages when it comes to selling secondary stakes:
Lack of Access: insufficient infrastructure and resources needed to build and maintain a broad network of relevant secondary buyers.
Disinterest in Smaller Stakes: family offices unfairly believe that external resources needed to find buyers become unavailable due to the the smaller relative size of their stakes.
Competitive Bidding: in the event a family office does find an interested and relevant secondary buyer, they will usually have a limited number of bidders reducing the competitiveness of the bids putting into question the fairness of the price.
Palico's Secondary Marketplace Brings Tech Solution to Family Offices
Family offices are quickly becoming aware that their options are not limited, as technology levels the playing field. Palico's digital marketplace for secondaries aims to serve family offices by directly addressing the pain points that limit their ability to sell secondary fund stakes:
Democratized Access: with over 8,000+ Private Equity LP/GP members on Palico, family offices get an immediate presence in front of a diverse array of secondary buyers: from large traditional players to non-traditional specialized buyers.
Specialist in Smaller Secondary Stakes: Palico has uniquely positioned itself to service smaller secondary stakes defined as $2M to $20M in size.
Competitive Bids and Interest: data from our Palico secondary marketplace indicates that sellers can expect anywhere from 5 to 15+ interested inquiries within the first 24 hours of listing a fund stake for sale. Just like that, a multi-bidder process has been made possible, therefore enhancing the competitiveness and price for family office secondary stakes.
Palico
Palico is a marketplace focused on maximizing price and proceeds by opening the sale of secondary stakes to a global community of both traditional and non-traditional buyers. The platform provides speed and ability by using dedicated alerts and machine matching algorithm. Sellers on Palico typically receive 5-15+ requests within 24 hours of posting.