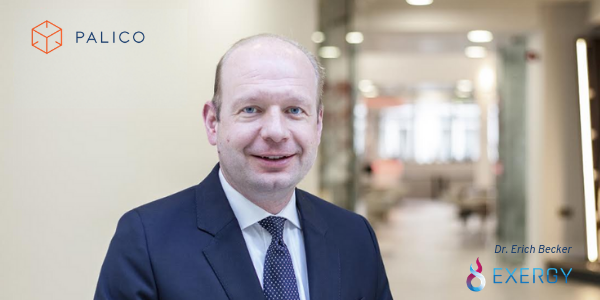 How would you describe Exergy's specialized investment strategy and how it is positioned in the market compared to other energy-focused funds?
Exergy is targeting selected sub-sectors and proven niche technologies driving the energy transition, a global trend towards decarbonization, electrification, and digitization of the economy.
The strategy benefits from this long-term structural shift. Substantial funding of circa USD 3,500bn per annum is required between 2016 and 2050 to meet the goals of the "Paris Agreement". This global effort aims to limit the rise in the global average temperature for this century to well below 2°C above pre-industrial levels.
Exergy is targeting uncrowded niche opportunities in infrastructure development and businesses that are driving and benefiting from the transition to a low carbon emission economy.
By de-risking real assets and supporting the growth of companies we seek to deliver opportunities to the large pool of capital seeking stable yielding assets such as pension funds, insurance companies, infrastructure funds, etc. rather than competing with them.
In our opinion, the constantly evolving market environment and increasing complexity of the energy sector requires a focused approach and skill set to identify and properly evaluate these investment opportunities.
As a team, we have an in-depth understanding of engineering aspects as well as market fundamentals, commodities, corporate finance and infrastructure with decades of experience investing in the energy markets.
Additionally, our collaboration with Winton Group, a global investment management and data science company, provides us with access to their unparalleled expertise in computing technology to apply mathematical and statistical methods. Energy markets have transformed from centralized analog to decentralized digital models with large amounts of data that the incumbent energy players are struggling to monetize. In our view, Exergy's access to world-class resources in the areas of data science, artificial intelligence, and computer science is unparalleled amongst energy and infrastructure investment managers. This expertise perfectly complements the team's skill sets in energy and clean technology investing and allows us to target the full range of opportunities arising from the energy transition. Our target themes include operationally complex but proven technologies in the areas of fossil-fuel displacement, niche electricity and heat generation, waste-to-energy, data-driven energy efficiency and energy consumption optimization.
In accordance with our strategy we typically would not be intrigued by "classic" renewable generation technologies (i.e. solar PV or on-shore wind) as those are very well understood attracting capital at high valuations.
How do ESG considerations weigh into your initial evaluation and management of innovative companies in the energy sector?
Responsible investment considering ESG issues is among the basic principles of Exergy's business philosophy. Exergy is at the forefront of pro-actively addressing ESG issues in private equity markets, being the first private equity manager to achieve a 'Prime' sustainability rating by ISS-oekom AG. In addition, each fund investment will be independently rated.
Our aim is to create long-lasting relationships based on mutual trust, respect, and transparency with investors, partners, and portfolio companies. This approach is visible through the implementation of formalized procedures to identify and manage ESG issues. Throughout the investment process, the assessment, and management of ESG issues forms an integral part of due diligence, the evaluation of potential investments and management of portfolio companies.
What developments along the energy value chain have caught your eye as an investor with a specialized strategy in this space?
Energy markets worldwide are currently being transformed and business models of the industry's biggest players disrupted by the worldwide trend towards decarbonization, electrification, and digitization.
A growing consensus regarding climate change has led governments to agree to ambitious emission-reduction targets impacting generation and consumption of energy. At the same time, electricity is replacing other forms of energy across most sectors of the economy reflecting a shift in consumer preferences towards electricity as an efficient, cleaner source of energy at the point of use. Finally, affordable information and communication technologies are reshaping the energy value chain by digitizing energy generation, distribution, and consumption.
Exergy is focused on uncrowded niches in selected subsectors of the energy value chain which offer the potential for superior risk-adjusted returns.
In our view, this selective approach is key to success and we have identified interesting opportunities and technology-driven energy efficiency solutions which all have an enormous potential to drive the global decarbonization effort.
Could you please tell us how you came across Palico?
We were introduced to Palico via our network within the investor community. It was mentioned to us that Palico offers an efficient platform that connects managers with a wide set of LPs looking for unique opportunities to invest in.