An International Monetary Fund World Economic Outlook report observes that emerging markets account for over 75 percent of today's global growth, "nearly double the share of just two decades ago." If you're looking to participate in that growth the best way to do it is through private equity. Only a small portion of emerging markets expansion is captured through public equities. For example, there are relatively few stocks focused on fast growing consumer goods in developing economies. Indeed, the vast majority of rapidly expanding emerging markets companies are family-owned and in the private sector - precisely the businesses that PE managers successfully partner with. Though $61 billion was raised last year by emerging markets funds, the second highest amount on record, finding the best is difficult, given far-flung locations, the generally crowded fundraising market and the stretched resources of investors.
Palico's Digital Marketplace Offers a Wealth of Emerging Markets Funds
Yet Palico offers a large variety of emerging market opportunities that can streamline the private equity investment process. Some two out of five primary and secondary investment opportunities among Palico's listings are focused on the emerging markets of Asia, Africa, the Middle East and Latin America. Moreover, more than four out of five of those offerings are for funds of $250 million or less. They're not only focused on dynamic family-run companies, but overwhelmingly on the more inefficiently priced small cap sectors of emerging markets. Primary and secondary emerging market opportunities also cover over 30 specialties, ranging from mezzanine finance in Mexico to impact investing in fast-growing Southeast Asian countries.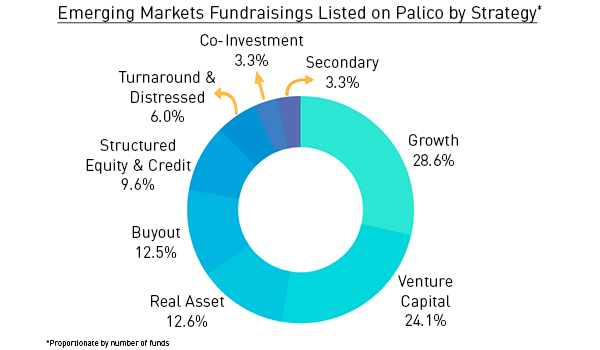 Emerging Market Listings Targeting Nearly $10 billion
Altogether, the aggregate capital targeted or raised by primary and secondary opportunities listed on Palico's digital marketplace amounts to $9.8 billion. Among the fundraisings, the majority have already held at least a first close on capital commitments - demonstrating traction among investors. Some two out of five emerging market fundraisings on Palico represent first-time vehicles, the vast majority run by veteran, but hungry managers, eager to prove themselves as independent operators. This is in the context of recent evidence that the average first-time fund outperforms the average later-generation vehicle.
Helping LPs Find Investments, Palico's Digital Marketplace Can Improve Returns
By bringing fundraisings and secondaries to desktops and smart devices, along with a wealth of information on those opportunities, Palico gives limited partners and their advisors more time to discover, analyze and invest in highly promising, frequently hard-to-find funds. Palico fits seamlessly with all channels of capital commitment, yet its digital marketplace makes fundraisings and secondaries - covering all strategies and regions - more accessible and affordable.
"With Palico, we essentially get a global marketing program, at scale, with no pressure on our resources. Palico is a great way to raise capital."
Daniel Ibri, Mindset Ventures, Sao Paolo, Brazil